---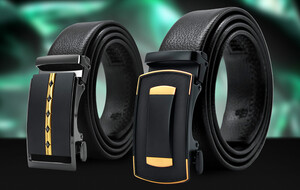 Celino Automatic Belts
No Holes, All Style!
A good belt is the capstone to any fine outfit. These automatic belts from Celino are made from high quality leather and adorned with bold automatic buckles to add a finishing touch to your wardrobe. Thanks to their holeless design, they're one size fits all and reduce wear and tear on the belt, so they'll stay beautiful and functional for far longer than a traditional belt.
Sale Ended
The sale has ended for this item, but check out our other amazing sales.